Short Form Video Content has been getting more popular in people from the last some years. That's why TikTok was the most used App in the World in 2019 and 2020. After the huge success of TikTok, all the major Social Media Platforms introduced short foam videos section. Now people like short videos rather than long content. Short foam videos are getting more views and engagement. That's why many content creators are now shifting towards short videos. Recently YouTube has also enabled Monetization for shorts. So Today, I am going to share the 5 Best Short Foam Video Apps like TikTok.
Here are the 5 Best Short Foam Video Apps like TikTok:
1. Facebook Reels
Facebook, one of the most famous social media platform, also introduced Reels after TikTok. Reels are short-foam videos of 1-2 Minutes duration, just like TikTok. If I share my personal experience, Reels are getting more engagement as compared to Graphical posts and long videos on Facebook. So If you are managing a Facebook page for your business, I will suggest to creating engaging reels. Facebook itself is promoting Reels to encourage creators to make more and more reels.
2. Instagram Reels
Meta, a parent company of Facebook, also owns Instagram. Instagram launched its reels section. You can create Instagram reels from 15 to 90 seconds in duration. Many Instagram influencers are now making their content in reel foam rather than posts because they know the importance of reels. People enjoy watching reels rather than their posts. There are many Instagram profiles having thousands of followers just because they are creating engaging short-foam videos. Try to create content that is relatable to the audience so they can share it with their friends and increase your engagement.
3. YouTube Shorts
YouTube world's largest platform video sharing platform, also has its Short-foam video section named YouTube shorts. Initially, YouTube Shorts were not able to Monetize, but now you can also Monititize your shorts. YouTube allows you to create shorts for up to a 1-minute duration. If you are a Creator on YouTube, you can also make amazing content on shorts to get more engagement and grow your channel.
4. Snack Video
Snack Video owned by Kuaishou Technology, is also a Short-foam video content platform similar to TikTok. It's a platform only for short-form videos, where creators can create engaging content for their fans. If you also enjoy watching short foam videos Snack videos is one of the best options for you. If you are a business owner or working as a Digital Marketer, you can also promote your business on Snack video by running your Ads.
5. Snapchat Spotlight
Snapchat is an instant message app also famous for its beautiful filters, launched a short-form video section in 2020 named Snapchat Spot Light. If you want to watch amazing short-foam content and share your friends, Snapchat is the best option for you. For the content creator who wants to grow their audience, Snapchat is also one of the most suitable options for them.
Also Read: 5 Best Tech YouTube Channels to Boost your Knowledge.
Summary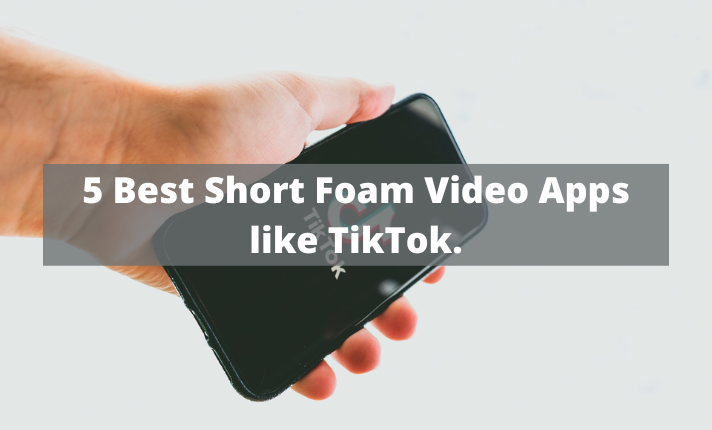 Article Name
5 Best Short Foam Video Apps like TikTok.
Description
Here are the 5 Best Short Foam Video Apps like TikTok. 1. Facebook Reels 2. Instagram Reels 3. YouTube Shorts 4. Snack Video 5. Snapchat Spot Light
Author